Psilocybin mushrooms have been found to have minimal harmful effects and could potentially benefit those with depression. But they remain illegal, and there is a big risk if you eat the wrong type.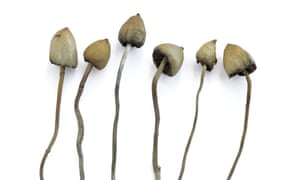 Magic mushrooms are the safest "recreational" drug to take and those who take them are the most sensible and well prepared,according to the 2017 Global Drug Survey. Out of almost 10,000 people who took them, only 0.2% needed emergency medical treatment. But magic mushrooms, or psilocybin mushrooms, contain a compound that has been a class A drug under the UK Misuse of Drugs Actsince 1971 – like heroin and crack cocaine.
The solution
Dr Robin Carhart-Harris, head of psychedelic research at Imperial College, London, explains that psilocybin is similar to LSD, but weaker, and mimics serotonin activity in the brain. It reduces brain activity in information transfer centres such as the thalamus, which sits just above the brainstem. The thalamus tells the brain what movement and sensations it is detecting. Whatever the mechanism, shrooms can make you euphoric, at one with the world and searingly insightful. Colours and geometric patterns may be vivid. Carhart-Harris says magic mushrooms are not really recreational drugs: "It's more a drug of self-exploration," he says. The environment, though, is essential to having a positive experience – people need space, a "sober sitter" to take care of them – and they may need reassurance that they are not going mad. Carhart-Harris prefers the term "challenging experience" over "bad trip": mushrooms can cause anxiety, panic and depersonalisation – but studies show people still value the experience as meaningful.
Studies do not show increased mental health problems from habitual use – unlike the effects of cocaine or cannabis. A BMJ article by psychiatrist James J H Rucker argues that psychedelic drugs may actually help depression and that there is no association with psychosis. A paper in science journal PLoS One found no evidence of flashbacks (such as hallucinations or panic attacks) from sole mushroom use. Mushrooms aren't habit forming and are far less toxic to our internal organs than heroin or cocaine. However, you should not take them as they are against the law, and this article is not promoting their use in any way. I am also keen to point out that there is a big risk of accidentally taking the wrong kind of mushroom – psilocybin mushrooms are safe, but others, such as Amanita muscaria, are toxic and can destroy your kidneys or can even be fatal.
Carhart-Harris researches into the benefits of psychedelic drugs on depression, and says that most experiences on mushrooms are positive – people generally know they have taken something and that they are not going out of their minds. The effect is different, he says, to when people unknowingly take these drugs. And while mushrooms are illegal for everyone, young people in particular should stay away. "They are not for teenagers," he warns. "They make you psychologically vulnerable and you need the capacity to make sense of the experience."
• The picture on this article was changed on 29 May 2017 to one that shows magic mushrooms.
Since you're here …
… we have a small favour to ask. Millions are flocking to the Guardian for quality news every day. We believe everyone deserves access to factual information, and analysis that has authority and integrity. That's why, unlike many others, we made a choice: to keep Guardian reporting open for all, regardless of where they live or what they can afford to pay.
As an open, independent news organisation we investigate, interrogate and expose the actions of those in power, without fear. With no shareholders or billionaire owner, our journalism is free from political and commercial bias – this makes us different. We can give a voice to the oppressed and neglected, and stand in solidarity with those who are calling for a fairer future. With your help we can make a difference.
We're determined to provide journalism that helps each of us better understand the world, and take actions that challenge, unite, and inspire change – in times of crisis and beyond. Our work would not be possible without our readers, who now support our work from 180 countries around the world.
But news organisations are facing an existential threat. With advertising revenues plummeting, the Guardian risks losing a major source of its funding. More than ever before, we're reliant on financial support from readers to fill the gap. Your support keeps us independent, open, and means we can maintain our high quality reporting – investigating, disentangling and interrogating.
Every reader contribution, however big or small, is so valuable for our future. Support the Guardian from as little as $1 – and it only takes a minute. Thank you.